Small Changes Look Big in Your Home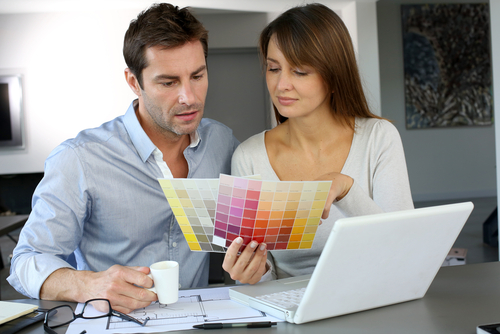 Small Changes Look Big in Your Home!
Maybe when you bought your home, you dreamed of growing old there. You envisioned future generations coming to visit and saw yourself establishing lifelong neighborhood friends.
However, as much as you still love it, over time, your home may have gotten a little worn in areas, or you may be considering selling your home and relocating.  Before putting your home on the market there are a few things that will improve the appeal to prospective buyers and ultimately a speedy sale.  Either way, at some point everyone feels the need to make changes, and your home is a great place to start.
If you look through home improvement magazines or spend a lot of time on Pinterest, you may feel overwhelmed by the amount of time and money others say you have to spend to update your home. In reality, with a little ingenuity, you can easily update the feel of your home in a weekend.
Your front door is a good place to start if you're looking for an easy update. If replacing the door is out of your budget, think about painting it a new color. Changing the house numbers or outdoor lighting are other easy and inexpensive fixes that your neighbors or prospective buyer will notice.
The kitchen is the heart of your home, so if it feels outdated or dark, you can change it up pretty easily. Installing a new back splash is a great weekend project that can really lighten up a room. Ceiling tiles, wallpaper, or a chalkboard are all inexpensive additions, too. Replacing an old faucet is one more easy change, as is replacing the hardware on the cabinets in your home. If you have more time to commit, you might even think about painting your cabinets. It's an inexpensive way to get a more modern look.
The master bedroom is another often neglected room in your home. If yours lacks flair, consider reviving the furniture in your room or making yourself a headboard. Anything from off the shelf units to old doors or window shutters can be converted into a headboard. Collage techniques involving family photographs or postcards from trips you've taken can create a very individual look.
Have fun with your updates and don't get discouraged by glossy magazines and big budgets! Your home can be beautiful and stylish, even on a budget and the changes will appeal to your prospective buyer.
For more information call the CENTURY 21 Almar & Associates Customer Service Center at 1-800-890-4018 or Contact Us today!